VANDERKLOOF DAM: THE ADVENTURE OF A LIFETIME
Travelling, exploring and experiencing new places change not only who we are, but also how we see the world, and there are few better places for the curious traveller to explore than the picturesque Vanderkloof town on the southern border of the Vanderkloof Dam in the Northern Cape.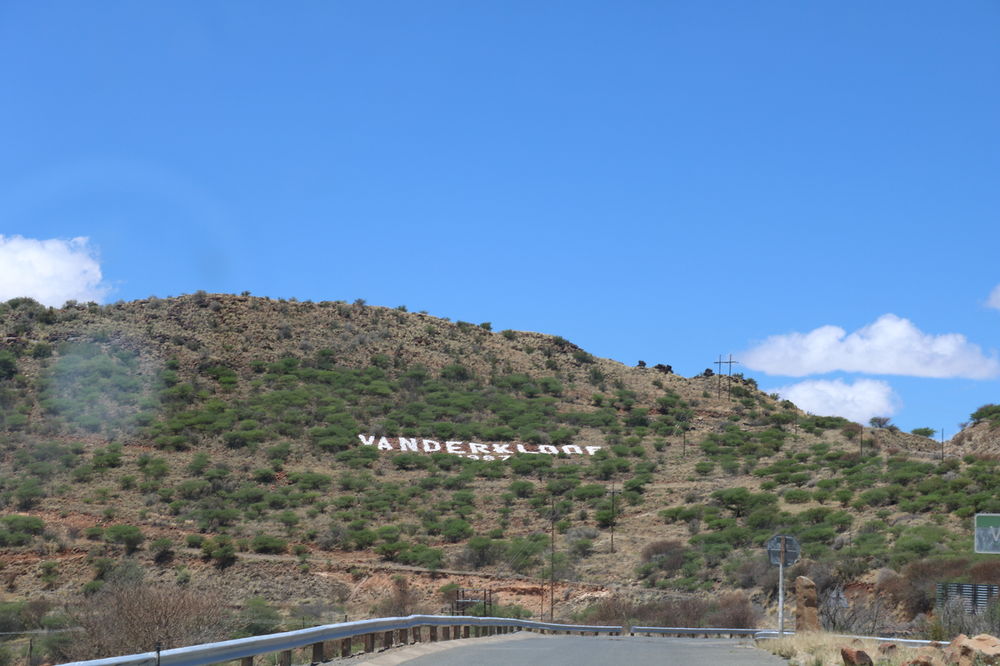 A sight for sore eyes! The Vanderkloof sign perched on a hill welcomes visitors and passersby as they enter the town. (Image: Northern Cape Tourism)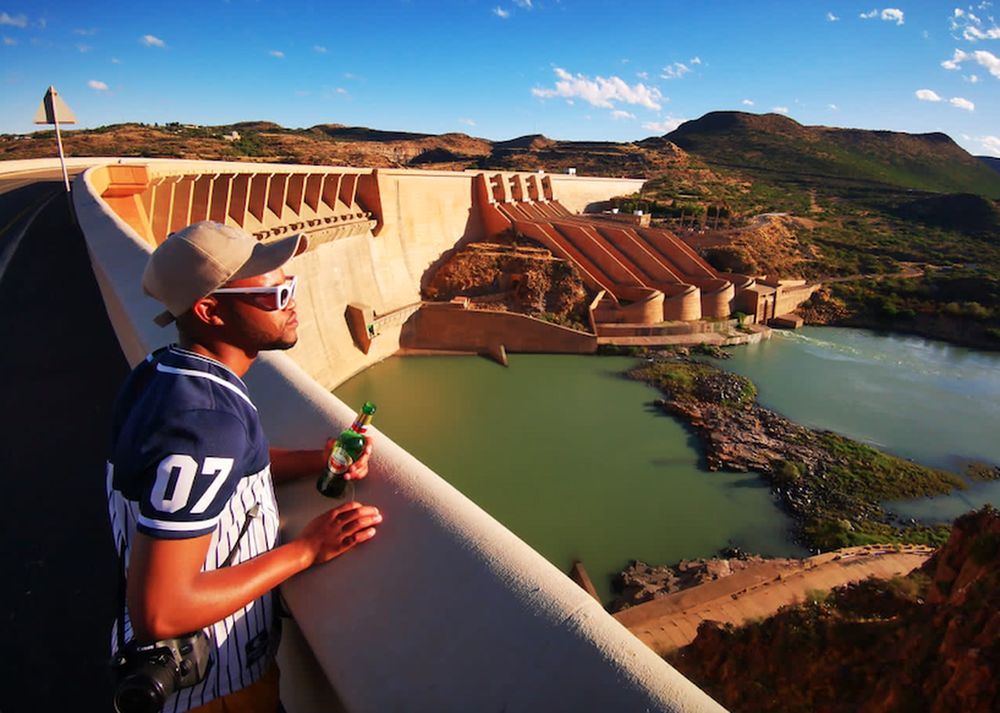 The top of the dam wall is the perfect spot to watch the sun setting and spot some of the dam's freshwater fish. (Image: Soraya Crowie)
South Africa's largest province is an excellent destination for travellers who love taking the road less travelled to enjoy some of the country's hidden gems, ranging from the best spots for water sports to national parks, historical sites and romantic stops for candlelit dinners under the stars.
Tucked away along the R369 regional route, about 93km from Hopetown, Vanderkloof is home to the country's second-largest dam in volume, with a 108m dam wall – the highest in South Africa. The dam plays an incredible role in attracting visitors from all walks of life who flock here to enjoy numerous activities, from angling and sailing to skiing and windsurfing.
Water sports with a twist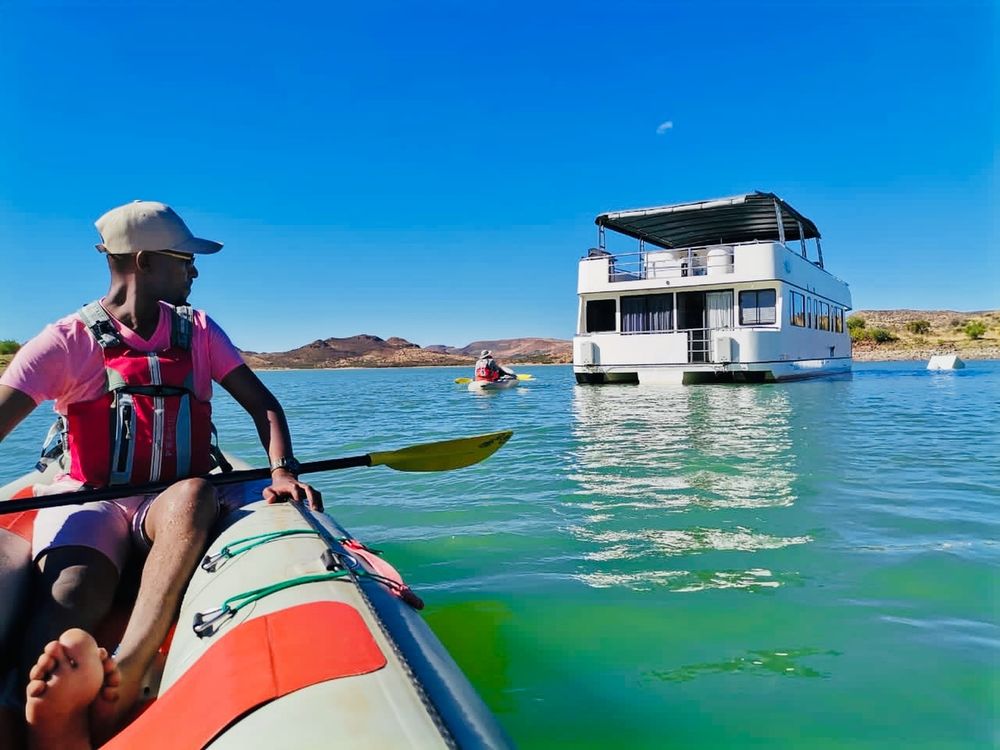 There's always fun to be had on the water at Vanderkloof Dam. (Image: Northern Cape Tourism)[/caption]
Gavin Myburgh and his team are ready to take people on the adventure of a lifetime. (Image: Adventure Kayaking)
If you're looking for an action-packed water-sports adventure on Vanderkloof Dam, then Gavin Myburgh and his experienced team at Adventure Kayaking are your best bet. The business offers fully catered trips to explore the dam, including all the equipment you need, so you can sit back without having to worry about logistics.
There are a number of options to choose from, including a four-day dam trip that includes a 26km paddle, tented camping on the banks of the dam, and a 10km hike for spectacular nature views – all spread out over the four days. Alternatively, you can design your own day trip that does not involve camping and simply spend the day paddling on the dam before heading out to enjoy your lunch or dinner.
Overnight at Rhino Manor
The stylish Rhino Manor guest house is in the heart of the town and only a stone's throw from the Vanderkloof Dam. The self-catering establishment, with a three-star rating from the Tourism Grading Council of South Africa, is a past winner of a coveted Lilizela Tourism Award.
Rhino Manor has seven luxurious and well-equipped units that can accommodate two to six guests. If you recently tied the knot, its exclusive, brand-new honeymoon suite comes highly recommended. All the units have access to facilities such as a kiddies' play area, swimming pool and braai area.
Eat your fill at the Oppiedek Braai Restaurant
Nestled on a small hill, the Oppiedek Braai Restaurant offers unparalleled views of the town with a stunning deck that overlooks the dam. If you're a fan of succulent Karoo lamb, you'll love this spot with its great selection of meat dishes.
You can pick the prime cut of your choice and the staff will braai it to your liking – and you can add a side dish of your choosing. Alternatively, opt for lighter fare, such as beef or chicken burger, or an oven-baked sandwich.
The restaurant also has a play area to occupy the little ones – and you can grab biltong, chilli bites, droëwors or other snacks for the road.
More nature at Doornkloof Nature Reserve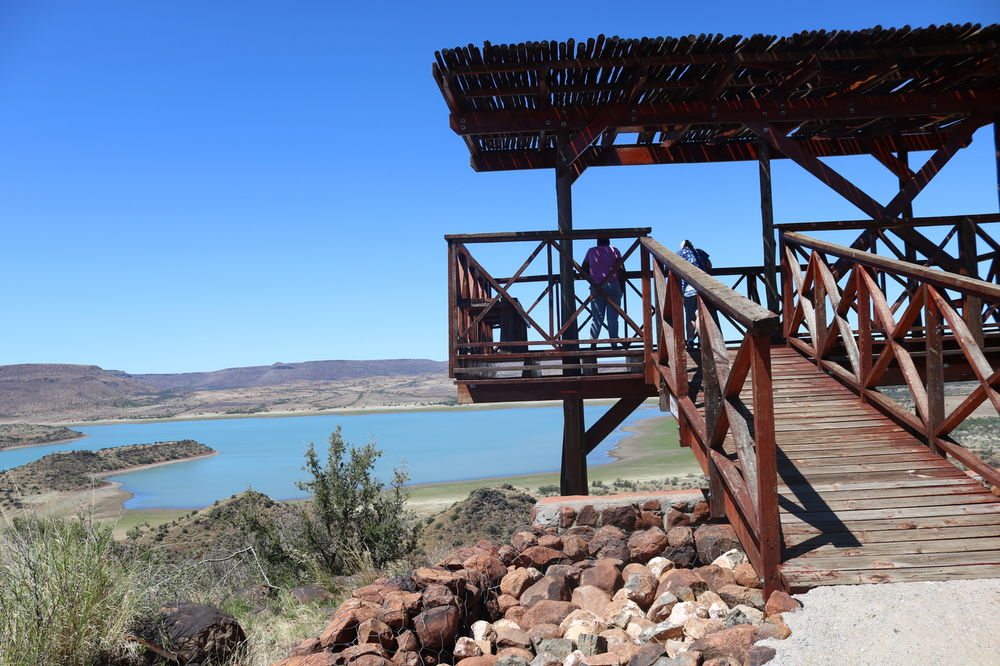 A deck overlooking the scenic surroundings of Doornkloof Nature Reserve – ideal for downtime and chilling. (Image: Soraya Crowie)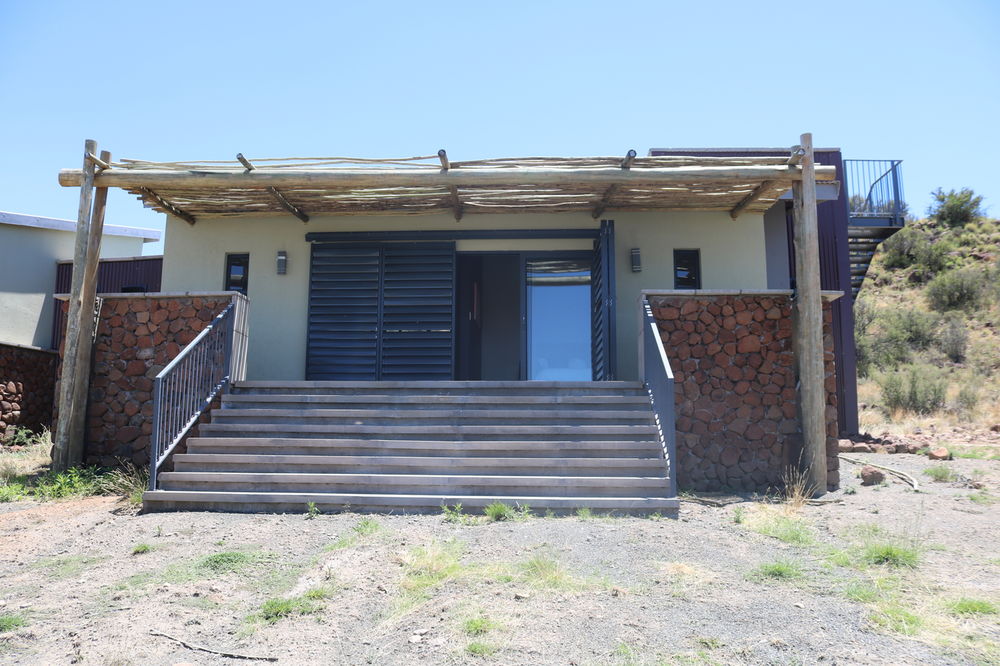 The newly refurbished chalets at Doornkloof Nature Reserve. (Image: Northern Cape Tourism)
There's more to Vanderkloof than water-based activities and scrumptious food. On the south-eastern bank of the Vanderkloof Dam lies the Doornkloof Nature Reserve.
The 9 388ha reserve is characterised by rocky hills and home to a myriad bird species, including the magnificent fish eagle. Apart from the chance to enjoy various hiking trails, mountain biking or overnight camping, you're also guaranteed to spot wildlife such as kudu, nyala, impala, buffalo and herds of sable antelope.
The reserve offers newly refurbished chalets that can host couples, groups of friends, or families. The chalets have a braai area and a deck, so you can take in the spectacular views of the surrounding hills and rock formations.

Views galore! Tranquility is in plentiful supply here, plus you're likely to spot some game too. (Image: Northern Cape Tourism)
Whether you're a boundary-pushing thrill-seeker or are simply in search of a remote Sho't Left with no bright lights or night clubs, in Vanderkloof you'll find an adventure with your name on it.